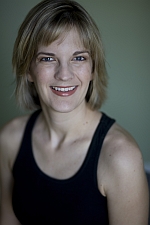 Lorrie Vincent was first exposed to Pilates in the mid 1990's during dance classes at Fresno State University. In 2003 she started taking biweekly equipment classes and after having her first child she decided to embark on the Certification program to become a Pilates Instructor. In February 2006 Lorrie started the year and a half process to become a certified teacher and completed her test in June 2007.
She has a lifetime of knowledge in body movement. She started dancing at the age of 5 and has studied ballet, jazz, tap, modern, clogging, and competed and judged in the highest level of Country Couples Dancing, West Coast Swing and Hustle. Along with dancing, she has been a Massage Therapist since 2000. Her life's work is helping herself and others become more aware of their bodies and how to live a healthier more balanced life.
Lorrie's Pilates classes tend to focus on breathing and finding deeper connections within the exercises and movements. She has always been a great technical teacher whether she is teaching dancing, Pilates, or her children. Her clients will tell you that she really cares and listens to what the client wants or needs for the day. It is not just another Pilates class of exercises and movements, it is a way to stretch, strengthen, relax, and learn about your body and how it serves you. The process of learning never ends and there is always room for growth.
Rates
Private Sessions: one-on-one with a trainer, the instruction emphasizing individual attention and use of all equipment. $60.00 / Hr.


Duo Sessions: 2 people with one trainer. Two private sessions are required before being placed in a semi-private. The instruction here is still based on an individual workout, you just share the hour with one other person. $35.00 / Hr.


Trio Session: 3 people in a class. The class is composed of small and large equipment. Spine Correctors, Arcs, and other small apparatus are also incorporated in the workouts. Most classes meet two to three times a week. Two private sessions are required before being placed in a class. $25.00 / Hr.
Instructors
About In Balance